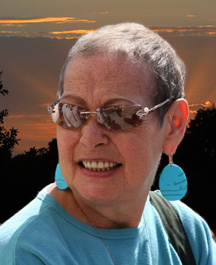 Today is an exclusive live video interview with Carole Hart for the interview series "Interviews with the Leading Edge."
In this series of interviews, I engage with people who are on the leading edge of transformational change, doing work to further the consciousness revolution and how it is manifesting in culture, politics and spirituality, in order to help bring along a more enlightened society.
Carole is an Emmy and Peabody award-winning filmmaker, whose most recent film she directed and produced, the documentary "For the Next 7 Generations," tells the true story of the thirteen Indigenous Grandmothers from all four corners of the world, who, moved by their concern for our planet, came together at a historic gathering, where they decided to form an alliance: The International Council of Thirteen Indigenous Grandmothers. The film is their story.
Four years in-the-making and shot on location in the Amazon rainforest, the mountains of Mexico, North America, and at a private meeting with the Dalai Lama in India, "For the Next 7 Generations" follows what happens when these wise women unite. Facing a world in crisis, they share with us their visions of healing and a call for change now, before it's too late. This film documents their unparalleled journey and timely perspectives on a timeless wisdom.
Carole Hart has had a long and storied career working in film and television, working with her partner and husband, the late Bruce Hart. They helped create "Sesame Street" (her husband wrote the theme song), for which she won her first Emmy.
She also produced, with Marlo Thomas, "Free to Be … You and Me," the now classic children's album, best-selling book and Peabody Award-winning television special. She and Bruce created and produced "Hot Hero Sandwich," an innovative Emmy-winning NBC series for adolescents.
Her credits also include a number of movies and docudramas made for television, including a groundbreaking film, "Leap of Faith," a true story about a woman who brought her cancer into remission through alternative means (she had to fight CBS to get the movie on TV); and again teamed with Marlo Thomas to create a multi-award winning mixed-media documentary for Lifetime Television, "Our Heroes, Ourselves."
I met with Carole in Saratoga Springs, NY, where she came to screen "For the Next 7 Generations," to a sold-out audience.  The interview took place in a yurt that sits in the backyard of Shari and Nick Parslow.
Carole is an engaging story teller, and the story she tells in this interview – of her own life and healing journey, her work, and her passion for making films that bring out the best in people – shine through in the interview.
To read more about her current film, For the Next 7 Generations, visit http://www.forthenext7generations.com/home.php