Today is an exclusive live video interview with Donna Eden and David Feinstein, for the interview series "Interviews with the Leading Edge."
In this series of interviews, I engage with people who are on the leading edge of transformational change, doing work to further the consciousness revolution and how it is manifesting in culture, politics and spirituality, in order to help bring along a more enlightened society.
The husband and wife team of Donna Eden and David Feinstein are two such people.
Donna and David are the co-authors of the landmark and pioneering book, "Energy Medicine." First published in 1998, it has been published in 20 languages and has been called the "Gray's Anatomy of the subtle body."
It weaves together Donna's amazing life story, the invisible world of the energies in which she works, pertinent research, cross cultural understanding, spell-binding case histories, and most important a systematic and comprehensive program for self-healing and for "keeping your energies humming."
David has a Ph.D. in psychology, and at one time in his life, before teaming up with Donna, was a researcher at John Hopkins and also in private practice as a Licensed Clinical Psychologist.
Together, they make a formidable team, as not only do they understand how  the energy system works and is laid out, but they are also able to teach what they know in a clear and direct manner.
Donna is among the world's most sought, most joyous, and most authoritative spokespersons for Energy Medicine. Her abilities as a healer are legendary. She has taught more than 80,000 people worldwide, both laypeople and professionals, how to understand the body as an energy system.
Since the publication of "Energy Medicine," the two have gone on to write other books, including "Energy Medicine for Women," "The Promise of Energy Psychology," and their most recent, "The Energies of Love: Using Energy Medicine to Keep Your Relationship Thriving."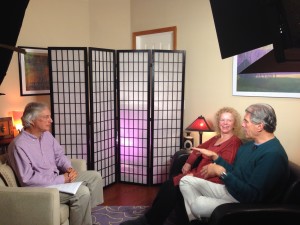 In each book, they make the case that energy medicine in the next big frontier in the field of medicine, and that the integration of energy medicine into the system of Western medicine is what would constitute true health care reform.
Donna's life story is riveting of and by itself. She became deathly sick as a teenager, and was diagnosed with multiple sclerosis. As her body continued to break down she had a heart attack in her 20's, and her doctor then informed her it was time to get her affairs in order. But Donna, who even then had an infinite supply of radiant energy, believed that she could heal, and heal she did. It was after this dramatic life event that she started to devote herself to becoming a healer.
Donna has, since childhood, been blessed with the ability to see energies, and so over time, she started learning more about the body and then began using her innate gifts to map out the various energy systems that lay within. Over time, as she first worked with people in private practice and then started teaching, she developed a firm knowledge of the body's various energy systems, which ultimately culminated in the writing of the pioneering "Energy Medicine."
I caught up with Donna and David while they were in Albany, NY to give a workshop. Both Donna and David radiate with love and enthusiasm not only for one another, but for the students they teach and for all of humanity. We had a far-ranging talk that covered Donna's incredible life story and healing journey; their work in the field of energy medicine; David's work in energy psychology; and energy medicine as a key to reforming our health care system.
We also delved into their new book, "The Energies of Love," which I can honestly say is truly an enlightening and insightful book that sheds a light on what makes a relationship work in our modern age – an era in which so many people desire to live a more meaningful life that integrates personal evolution with the evolution of a partnership – and they cite studies to back up what they speak about in the book.
For instance, they cite studies that show that while love and a practical partnership are vital considerations for a long-term relationship, it is the ability of a couple to support each partner's personal evolution that has emerged as a pivotal dimension of satisfaction in a long-term relationship.
And conversely, in the "Energies of Love," they say that dissatisfaction, even in relationship and marriages that last, has become endemic. Yet, on the other side, the best marriages today are stronger than perhaps at any time in history.
Hear them speak about this and more by watching the interview. You will surely come away with a more enlightened perspective.
To learn more about the work of Donna Eden and David Feinstein, you can go to http://www.innersource.net.