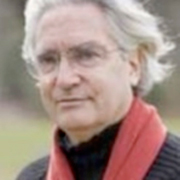 Today is an exclusive live video interview with Kurt Johnson, Ph.D., for the interview series

"Interviews with the Leading Edge."
In this series of interviews, I engage with people who are on the leading edge of transformational change, doing work to further the consciousness revolution and how it is manifesting in culture, politics and spirituality, in order to help bring along a more enlightened society.
Kurt Johnson is the co-author, with David Robert Ord, of the new book, "The Coming Interspiritual Age." You can read more about the book at http://www.thecominginterspiritualage.com/
Kurt is also well known internationally as a scientist, comparative religionist, social activist, spiritual teacher, former monastic and leader in the consciousness and world shift movements.
With a PhD in evolution, ecology, systematics, and comparative biology, plus extensive training in comparative religion and philosophy, he was associated professionally for twenty years with the American Museum of Natural History and also the One Spirit Interfaith Seminary in New York City.
Ordained in three spiritual traditions, he is widely regarded as the closest associate of Brother Wayne Teasdale, the founder of the modern "interspiritual movement," and works also with the international Contemplative Alliance and Father Thomas Keating, founder of the Centering Prayer Movement.
In science, Dr. Johnson has published over 200 professional articles and seven books on evolution and ecology. His popular book "Nabokov's Blues: The Scientific Odyssey of a Literary Genius" (co-authored with New York Times journalist Steve Coates) was a "ten best" book in science in 2000 at Booklist, Library Journal, the Washington Post and HMS Beagle and "Editor's Choice for 1999" at The Seattle Times.
Johnson and Brother Teasdale cofounded the international Interspiritual Dialogue association in 2002, which presented at the 2004 Parliament of the World's Religions and then expanded to become the virtual Interspiritual Multiplex web resource.
He is affiliated with, or has co-founded, InterSpiritual Dialogue in Action (www.isdna.org) and its InterSpiritual Multiplex website (www.isdna.org) and Community of The Mystic Heart (= Universal Order of Sannyasa, www.communityofthemysticheart.org); One Spirit Interfaith Seminary and Learning Alliance (www.onespiritinterfaith.org); the Order of Universal Interfaith (www.ouni.org); the Coalition for OneVoice (http://coalitionforonevoice.org); the Council of Interfaith Communities of the USA (www.cic-usa.org); the Contemplative Alliance (www.gpiw.org); and, the Humanist Institute and Ethical Culture UN NGO (www.nationalserviceaeu.org).
He also works with www.stillnessspeaks.com, www.satsangteachers.com, the Aspen Grove and other intermystical dialogue and social change groups.
I met with Kurt at the One Spirit Alliance in New York City, and there we had a thoughtful, engaging and deep-rooted conversation about spirituality, religion, social justice, his work with Brother Wayne Teasdale, what it means to be a mystic, the significance of the interspiritual movement, his work at connecting the integral work of Ken Wilber with the interspiritual community, and the significance of globalization  and what it means for our future.
This is a conversation brimming with profound significance about what it means to be a fully alive and awakened human being and what we, as awakened humans, can do to make this a better world, so you will thoroughly enjoy it and will find yourself watching it a number of times.
For more information on Kurt's new book "The Coming Interspiritual Age," here again is the website: http://www.thecominginterspiritualage.com/
For more information on the interspiritual movement, here again is the website: http://www.isdna.org/
And to join the Facebook Interspiritual Age page and community, here is where you can find it: https://www.facebook.com/TheComingInterspiritualAge