Last week, during this series on green/sustainable living, I told you about some upcoming electric cars.
Now the knock on electric cars is that they have to plug into the power grid to get their energy, and thus they are still causing a drain on the world's finite sources of energy. That's why some people are developing other sources of energy to power cars, such as algae and used cooking oil.
British entrepreneur Dale Vince, who made a fortune building wind turbines, recognizes this fact, and so is developing an electric car that can be powered up by wind turbines. He has developed a prototype that's a sports car and is called the "Nemesis."
You can learn more about it and watch the prototype Nemesis burn rubber after a few tweaks, in the above video.
The reason Vince wants it to be a sports car is to prove that an electric car – or in this case, a wind-powered electric car – could outpizzazz any gasoline-powered car. Vince's goal was for the Nemesis to be able to go from 0 – 60 faster than a V12 Ferrari.
And in a recent test drive, Vince was able to prove his point, as he got the car up to 100mph very quickly!
Vince is an interesting personality, a risk-taking entrepreneur in the Richard Branson mold. In fact, in a recent poll taken in England, Vince defeated Branson and received 60% of the vote to win the honor of being considered Britain's most inspiring business leader.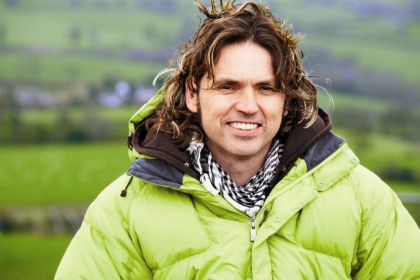 Dale Vince is founder and managing director of Ecotricity, the UK's leading supplier of green energy. Prior to starting Ecotricity, he also founded NexGen, a manufacturer of wind monitoring equipment, and before that spent ten years living a low-impact lifestyle as, what he calls, a "new-age traveler." He is a vegan, and continues to experiment with green energy and low-impact living at home.
In his own words, this is what Dale Vince has to say about renewable energy sources:
"Fossil fuels have their days numbered – there's nothing else in the ground to replace them with and even if there were we can't afford the carbon emissions that would bring.
"In the future renewables will be all we have – even uranium is a finite power source – it's just a matter of how far forward you look, and how prepared we are – it may be 'kicking or screaming,' but our futures will be renewable powered – just as our past has been.
"Conservation of energy and efficiency measures are 'the other side of the coin' essential in the move to a more sustainable life – we could probably reduce by 50% the average amount of energy that houses use – and this would halve the number of windmills or other sources need to provide power. Essential."
So, you may not be ready to drive a wind-powered electric car that can go faster than a souped-up Ferrari, but be ready for the next generation of vehicles that run on renewable sources of energy.
These are the low-impact, Low Density Lifestyle, waves of the future.