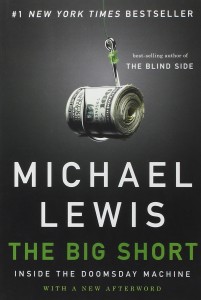 In Michael Lewis' book "The Big Short," about the financial collapse of 2008, and which recently became a movie – and I talked about the movie in my article "You Say You Want a Revolution" – one of the main characters in the book is a man named Steve Eisman, who in the movie goes by the name of Mark Baum.
Eisman is a financial guy, who at the time was working as an analyst and running a hedge fund called FrontPoint Partners, which was an autonomous group owned by Morgan Stanley. He is one of the few who saw the dark side of the financial world and the corrupt and incompetent nature of the mortgage bond industry, an industry in which all players were making money head over heels.
At one point, as Eisman sees how the system is set up and rigged, he has an epiphany and says, "I decided the system was really, 'Fuck the poor.' "
He also said, as he saw the social implications of fucking the poor, that, "That's where I started to see the social implications. If you are going to start a regulatory regime from scratch, you'd design it to protect the middle- and lower-middle-income people, because the opportunity for them to get ripped off was so high. Instead, what we had was a regime  where those were the people  who were protected the least."
Enter Flint, Michigan, a city of 100,000, mostly poor and black, a city where 40% of the residents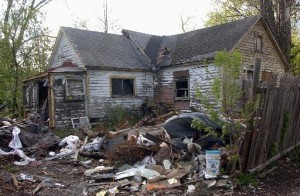 live below the poverty line, a city without a grocery store, and a city where 15% of the homes are boarded up and abandoned. Flint is now a victim of American fascism and domestic terrorism, and is an example of why this country needs a new type of Revolution – a Quantum Revolution.
American fascism is predicated on fucking the poor, and panders to its master, the corporatocracy. The problem with this form of fascism is that it victimizes millions of people, injuring more people than ISIS, Al Qaeda or any other terrorist group could ever do. This form of fascism is truly a domestic form of terrorism.
You may have seen or heard about it: the people of Flint have been poisoned by their water supply, with high levels of lead found in the water. Currently 10 people have died in Flint from the toxic water and 87 people have been diagnosed with Legionnaires Disease – and that's just the tip of the iceberg that will be coming down the pike in Flint, as every single child in Flint has been poisoned with lead-filled water.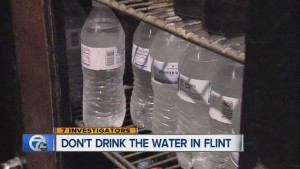 Lead poisoning is irreversible. "If you were to put something in a population to keep children down for generation and generations to come, it would be lead," Dr. Mona Hanna-Attisha, a Flint pediatrician, said. "It's a well-known, potent neurotoxin. There's tons of evidence on what lead does to a child, and it is one of the most damning things that you can do to a population. It drops your IQ, it affects your behavior, it's been linked to criminality, it has multigenerational impacts. There is no safe level of lead in a child."
And the sad part of this story is this never had to happen if American fascism hadn't taken hold. The chief fascist in this is the Republican governor of Michigan, Rick Snyder, who decided to bring the corporatocracy approach to Michigan and have the state start turning a profit, or at least cut costs, and to do whatever it took to achieve it.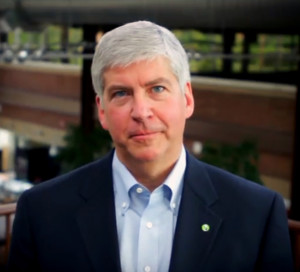 Numerous cities and school districts in the state are now run by single, state-appointed technocrats, as permitted under an emergency financial manager law pushed through by Snyder, who has positioned himself as the king of austerity. This legislation not only strips residents of their local voting rights, but gives Snyder's appointee the power to do just about anything, including dissolving the city itself—all (no matter how disastrous) in the name of "fiscal responsibility."
And so, the emergency manager for Flint decided to cut costs by switching where Flint got its water. Instead of getting its water from Detroit, the emergency manager decided, by fiat, that Flint would get its water from the polluted Flint River, at a savings of $12 million a year. That was two years ago.
To residents, the change was immediately noticeable, as the water started to look, smell and taste funny. Residents said it often looked dirty. Tests detected E. coli and fecal bacteria in the water, as well as high levels of trihalomethanes, a carcinogenic chemical cocktail known as THMs.
For months, the city concealed the presence of THMs, which over years can lead to increased rates of cancer, kidney failure, and birth defects. Still, it was obvious to local residents that something was up. Some of them were breaking out in mysterious rashes or experiencing bouts of severe diarrhea, while others watched as their eyelashes and hair began to fall out.
For two years, Flint residents have been drinking this; meanwhile the Governor and the state Department of Environmental Quality assured residents that the water was safe.
But what residents couldn't see was far worse. About half of the service lines to homes in Flint are made of lead and because the water, which was highly corrosive, wasn't properly treated, lead began leaching into the water supply – hence the lead poisoning in a high number of Flint adults and children.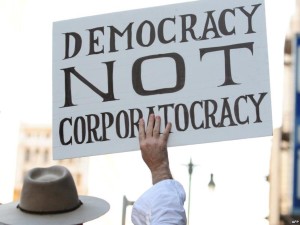 And a sadder part of this is that if the state had added an anti-corrosive agent to the water, the water wouldn't have corroded the pipes and the lead poisoning would not have occurred. The governor knew that the river contained many toxins. He ignored that.
Why didn't the state add the anti-corrosive agent? Because it would have cost $100 a day for three months, and the American fascist governor was all about saving money.
And now, thanks to saving all that money, it is estimated that to repair the damaged water system in Flint it will cost at least $1.5 billion.
Ironically, in the spring of 2015, before Flint's water situation became more widely known, Governor Snyder launched his own national tour to sell "the Michigan story to the rest of the country." His trip was funded by a nonprofit (fed, naturally, by undisclosed donations) named "Making Government Accountable: The Michigan Story." His goal was self-serving, to show America what a visionary leader he was.
Some say Hitler was a visionary leader too.
In other words, he was selling American fascism to the general populace, telling people "see, this is how we fix problems" – and by the way, we also fuck the poor in the process.
If ISIS or Al Qaeda did something like this to our water supply, we would be ready to go to war and bomb the stuffings out of them. What ISIS and Al Qaeda does is reprehensible enough, but the number of victims with this far surpasses anything those foreign terrorist groups could do. This is domestic terrorism at its worst – and we have the American fascists to blame for inflicting this terror upon us.
The documentary filmmaker Michael Moore is a Flint native and is calling for Governor Rick Snyder to be arrested. I wholeheartedly agree with that – he should be sent to Guantanamo.
Incidentally, Steve Eisman, the hedge fund manager from "The Big Short" who realized the nature of the financial industry, began his career on Wall Street as a dyed in the wool Republican conservative. Over the years, his perspective has changed 180 degrees and he now considers himself a progressive, because he has been sickened by what he has seen the financial markets do when they have free rein. Who can blame him? He has seen American fascism up front and personal.
And so, what do we do about this? How do we stop American fascism? My friends, it's going to take a Revolution – a Quantum, or Consciousness Revolution. This kind of behavior, where politicians and corporate leaders engage in actions that benefit only themselves and their companies, is the lowest, basest and most malevolent form of human behavior.
In a more enlightened society, the emphasis is on what serves the greater good, even if what serves the greater good goes against what serves the individual.
To create this Revolution will mean taking the simple step away from self-interest towards enlightened self-interest, where the greater good is integrated into the decision making process. That actually isn't hard to do, if we change the story of how American society operates.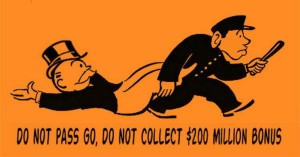 The first step in changing the story is by jailing people like Governor Snyder, or the bankers at the forefront of the 2008 financial collapse, or corporate leaders who cheat and defraud and injure the public – they are all domestic terrorists – because it lets it be known that that kind of behavior is not acceptable. And there can be no ifs, ands or buts about it – you mess with the public and commit acts of domestic terrorism and your ass gets thrown in jail for quite awhile.
This is the beginning step towards this new Revolution and how we can move away from American fascism and the domestic terrorism that it causes.