Leonard Cohen singing "Everybody Knows" in London, 2008.
I've been writing articles for the last week on the topic of spirituality, because connecting to the spiritual dimension is an important aspect of living a Low Density Lifestyle.
For today and tomorrow's articles, I want to tell you about two different musicians who have been on a spiritual journey for most of their professional lives, and have found a way to integrate their insights into their music.
Today I will tell you about a man who was once called "the Canadian Dylan." His name is Leonard Cohen.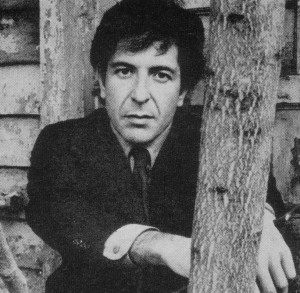 Cohen, born in 1934, is a well-known singer-songwriter and author of many classic songs, including "Suzanne," "Sisters of Mercy," "Hallelujah," "So Long Marianne," "Who By Fire," and "Everybody Knows."
Cohen had a deeply religious Jewish upbringing. "I had a very Messianic childhood," he has said. "I was told I was a descendant of Aaron the high priest."
Many of his songs and novels reflect religious, spiritual and mystical themes. The words and melody of the song "Who by Fire" echo the Unetaneh Tokef, an 11th century liturgical poem recited on Rosh Hashana  and Yom Kippur, and the song "Hallelujah," (which Rufus Wainwright sang in the movie "Shrek") begins by evoking the biblical king David composing a song that "pleased the Lord," and continues with references to Bathsheba and Samson.
In 1994, Cohen had enough of the music world and the material life. He took up residency at a Zen center outside Los Angeles, became an ordained Zen monk, and was given the name Jikan, meaning "silence."
And there Leonard Cohen might have stayed, if he didn't feel the pull of the muse and the need to produce poetry and song.  He felt called to fulfill his destiny, to live a spiritual life in the everyday world, which in the Zen tradition, is the true way to live a spiritual life.
And so, in 1999, after five years living in the Zen monastery, Cohen came out of his seclusion and returned to the secular world.
But he kept a low profile until business misfortunes – his former manager took most of his money – pushed him to go out and tour, and expose his music once again to the world. In 2008, at the age of 74, he began a world tour, and in 2009 he played in the U.S. for the first time in 15 years.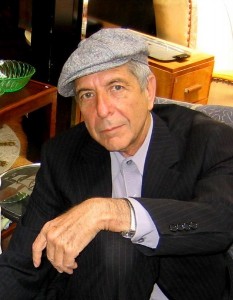 Cohen sees touring as a spiritual discipline. Roscoe Beck, Cohen's musical director, says that even on the longest flights Cohen "sits cross-legged and straight-backed in his seat, in a monk's posture." When asked whether he also does yoga to build strength and agility for his stage shows, Cohen replied, "That is my yoga."
Leonard Cohen may have lost his life as a recluse by having to go back on tour, but the world is much richer for it.
Here is a prime example of someone who has fully connected themselves to the spiritual dimension, and has allowed their life to be deeply imbued by the profound depths that the spiritual dimension has to offer.
He still is an observant Jew who keeps the Sabbath even while on tour, and still squares that faith with his continued practice of Zen. Some have wondered how he manages to do both.
"Allen Ginsberg asked me the same question many years ago," Cohen says. "Well, for one thing, in the tradition of Zen that I've practiced, there is no prayerful worship and there is no affirmation of a deity. So theologically there is no challenge to any Jewish belief."
Zen has also helped him to learn to "stop whining," Cohen says, and to worry less about the choices he has made. "All these things have their own destiny; one has one's own destiny. The older I get, the surer I am that I'm not running the show."
Leonard Cohen is someone who has felt the pull of the Low Density Lifestyle, and has stayed true to that pull throughout his life, both professionally and personally, and we are all grateful to him for doing so.
There are 2 videos on this page. At the top of the page is a video from his 2008 tour, singing "Everybody Knows" in London. And below is one from a concert on the Isle of Wight in 1970, where he sang his classic song "Suzanne."
Let others know about this article by posting it on Twitter! It's easy – just click on the "tweet it" button below.