Last year I wrote an article about Jerry Thill, who at the time was 91 years old and rocking away. I thought I would reprise it and add some more info about Jerry, since the article I wrote was short on background information about her. Jerry is truly a longevity role model.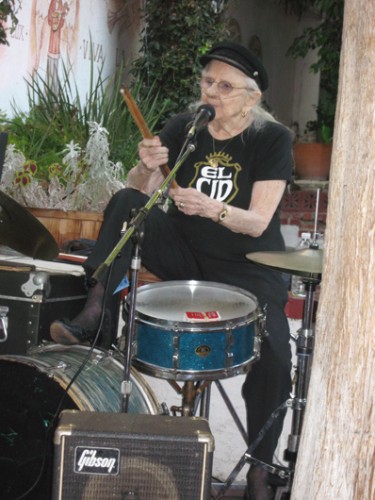 Jerry Thill, now 92, lives in L.A. and has been in the music scene since her teens. Over the last 60 years she has been leading all-female bands, from big-band and swing bands to jazz ensembles. She's been on the Tonight show and on TV shows such as The Golden Girls and Married With Children.
But it was the above video, Hey Jerry, shot and produced by her musician/filmmaker friend Allee Willis last year, that gave Jerry Thill massive exposure. After all, how many nonagenarians are out doing drumming gigs on a regular basis, as Jerry still does?
Jerry currently gigs in Hollywood, CA at the El Cid restaurant. See the video below of her performing the song"Oh Yeah" at the El Cid in 2008. The song begins at the 1 minute mark of the video.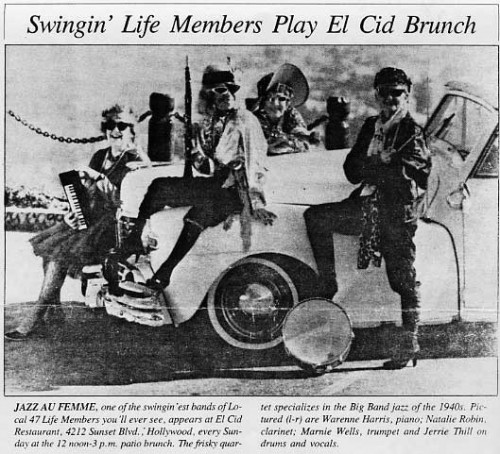 Since the Hey Jerry video first appeared on YouTube, Jerry has appeared on the cover of Modern Drummer magazine, and has been featured in other articles. Along with that she has received thousands of letters and emails, with people telling Jerry what an inspiration and role model she is.
Jerry says that, "I've gotten a lot of emails from people who say, 'I'm 45, and I'm at a point in my life where I don't know what to do, and your video inspired me, and I'm going to get off my ass and do something.' "
The oxygen tank Jerry has with her (you see it in the above video) is something only recent, in the last year. I assume the oxygen tank is from the occupational hazard of years of gigging in clubs and all the cigarettes that people used to smoke while listening to the music.
Jerry Thill is still going strong at 92 and is a remarkable model of longevity. We should all be rocking away when we hit her age.
Here's Jerry's website: https://drmichaelwayne.com/blog/jerriethill.com/
And don't forget, next time you're in Hollywood stop by the El Cid to see her.
Below is the video of her performing in 2008 at the El Cid. The music starts at the 1 minute mark of the video.