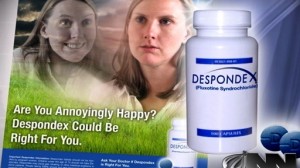 First off, a number of people have asked me about yesterday's article and video about the new depressant medication Despondex. Is it real, they wondered? Is there really a medication that will stop people from being cheery?
Of course not (though I'm starting to wonder what's in my water supply).
It obviously was a humor piece, something that was aimed at making you chuckle.
This entire series is on humor, after all. The first article on the benefits of humor and laughter explained the importance of it and how and why it can keep you feeling light of body, mind and spirit, and keep you in Low Density Lifestyle mode.
But as of yesterday's article, I'm not here to tell you why humor is important for living a Low Density Lifestyle. Instead the articles are aimed at making you laugh.
So today, courtesy of the scholars at Book-a-Minute Classics, I want to give you ultra-condensed versions of classic books. These condensed versions will tell you everything you need to know about the book, and shave off all the fluffy frills.
Never again will you have to read a classic book, thanks to Book-a-Minute Classics.
So here comes 15 of your favorite stories. Don't say I didn't warn you.
One Flew Over the Cuckoo's Nest by Ken Kesey
Nurse Ratched
I destroy my patients psychologically so I can have power and control.
Randall P. McMurphy
But freedom and happiness are good things.
Nurse Ratched
Lobotomy time for you, buster.
(McMurphy DIES but inspires HOPE so OTHERS may LIVE.)
THE END

Lord of the Flies by William Golding
(Some BOYS crash on an ISLAND.)
Ralph
We need a fire.
(They make a fire. It goes out.)
Ralph
We need a fire.
(They make a fire. It goes out.)
Ralph
We need a fire.
Jack
Forget the fire. Let's kill each other.
Other Boys
Yeah!
(They do.)
THE END
Henry David Thoreau
A truly rich man doesn't have money but rather courage, truth, and an inner glory that transcends the passiveness of our physical beings. That's why I'm going to live in the boonies.
(Two years later…)
I'm getting the heck out of here and getting my pencil-making job back. Um. But what I said still goes.
THE END
Finnegans Wake by James Joyce
James Joyce
I have created my own language to tell the cyclical history of humanity.
Reader #1
Brilliance!
Reader #2
(dies)
THE END
A Christmas Carol by Charles Dickens
Ebenezer Scrooge
Bah, humbug. You'll work thirty-eight hours on Christmas Day, keep the heat at five degrees, and like it.
Ghost of Jacob Marley
Ebenezer Scrooge, three ghosts of Christmas will come and tell you you're mean.
Three Ghosts of Christmas
You're mean.
Ebenezer Scrooge
At last, I have seen the light. Let's dance in the streets. Have some money.
THE END
The Sun Also Rises by Ernest Hemingway
Stock Hemingway Narrating Character
It was in Europe after the war. We were depressed. We drank a lot. We were still depressed.
THE END
The Catcher in the Rye by J.D. Salinger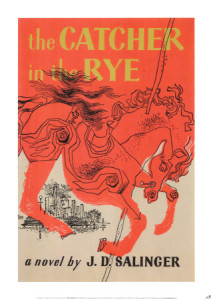 Holden Caulfield
Angst angst angst swear curse swear crazy crazy angst swear curse, society sucks, and I'm a stupid jerk.
THE END

Hamlet by William Shakespeare
Hamlet
Whine whine whine…To be or not to be…I'm dead.
THE END
The Collected Work of Edgar Allan Poe
Some Guy
Oh no. I'm buried alive!
Narrator
I died.
Raven
Nevermore.
THE END
The Grapes of Wrath by John Steinbeck
Tom Joad
Our farm has been taken away. Let's go to California.
(They do. On the way, there are calamities, and people DIE, because this is the Great Depression when times were HARD, and it was a struggle just to hold on to one's DIGNITY.)
THE END
Huckleberry Finn by Mark Twain
Huckleberry Finn
(Goes rafting. Goes home.)
THE END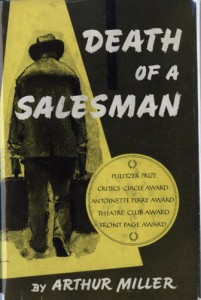 Death of a Salesman by Arthur Miller
Willy Loman
Everytime something bad happens, I go back in time to happier occasions.
Biff Loman
I'm a bum.
Willy Loman
Here I go again.
(Willy Loman goes back in time. Then he runs out of times to go back to, so he dies.)
THE END
Metamophosis by Franz Kafka
Gregor Samsa
Holy crap, I'm a vermin thingie!
(He DIES…eventually.)
THE END

Pride and Prejudice by Jane Austen
Mr. Darcy
Nothing is good enough for me.
Ms. Elizabeth Bennet
I could never marry that proud man.
(They change their minds.)
THE END
The Hitchhiker's Guide to the Galaxy by Douglas Adams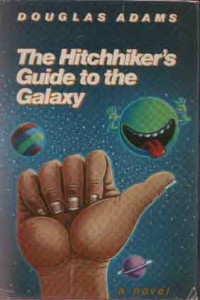 (The Earth gets BLOWN UP.)
Arthur
I'm a bit upset about that.
Ford
Yes, I can understand that.
(They fly around the galaxy. They go UNDERGROUND, where they see…)
Arthur
The Earth.
Deep Thought
Forty two.
THE END
Let others know about this article by posting it on Twitter! It's easy – just click on the "tweet it" button below.