Yesterday I told you about Bhutan, and the fact that this small Himalayan country is the happiest nation in the world.
That is because they stress a concept called Gross National Happiness.
Instead of a Gross National Product, which is what most countries emphasize as a sign of their economic health, Bhutan is more interested in the well-being of its citizens, so all laws are enacted with the Gross National Happiness in mind.
In other words, if a law is unjust and causes unhappiness for the citizens of Bhutan, then it won't go into effect.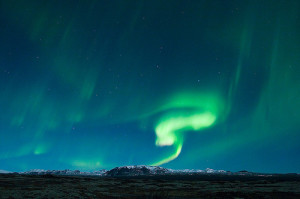 Another country that has a long tradition of happiness is Iceland. Iceland doesn't have a Gross National Happiness, but ingrained in the minds of the Icelandic people is a remarkable ability to weather storms while continuing to maintain their happiness.
And right now, Iceland is having a rough storm brewing over their heads – the global recession has hit them very hard, and the country has gone bankrupt.
In the above video, Eric Weiner, author of the book The Geography of Bliss, tells us why Icelanders are so happy, even as calamity has fallen upon them.
He even points out, fascinatingly enough, that Icelandic people get happy by being unhappy and embracing failure.
That's an interesting concept – turning your unhappiness into happiness.
Call it a happiness jujitsu.
Can you turn your unhappiness into happiness?
The below video takes an inside look at Iceland, its majestic beauty, and its people, giving you a glimpse of what makes Iceland the second happiest nation in the world.