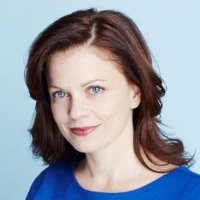 I sat down for a Skype conversation not too long ago with Heidi L. Sieck, the CEO of #VOTEPROCHOICE, a civic entrepreneur, and feminist activist, for my Interviews with the Leading Edge video interview series.
Heidi has been on the leading edge of transforming politics at its core and bringing more women into power and political office. She brings 25 years of innovation and activism to the intersection of technology, politics and well-being.
She serves as Chair of the National Institute for Reproductive Health Board of Directors and is on the founding leadership team and Board of Directors of CTZNWELL, a movement for the wellbeing of all. She is also an Advisory Board Member of VoteRunLead and founding Board of Directors of Emerge New York.
When she is not creating a company, mentoring young women or giving a speech about political reform or gender parity, you will find Heidi playing in the sandbox of democracy. Heidi has worked on six presidential campaigns and countless state and local races from New York City to Nebraska. She served as President of the nonpartisan San Francisco Women's Political Committee, the largest women's organization in the City. She also co-founded the San Francisco Women's Policy Summit and created the San Francisco Women's Collaborative.
I invite you to watch this enlightening interview that shows the importance of being civically and politically engaged. You can do so right here: Heidi L. Sieck interview.
I have a new free six-day email  course that I am offering, entitled  Enlightened Living: 6 Ways to Build an Authentic, Serene and Healthy Life. Read more about it here: The Enlightened Living Course or you can just sign up below to receive the course.
[gravityform id="2″ title="true" description="true"]