I want to continue on the green living theme by talking today about electric cars, which more and more are becoming part of the landscape. Hybrids are readily available – the most popular being the Toyota Prius – and soon, the next generation of electric cars – plug-in hybrids – will be coming out.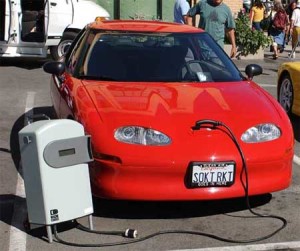 But I want to tell you of a different type of car. No, not the sustainable cars of the future that I talked about a few days ago, nor the electric two-wheeler or wind-powered cars, also of the future, that I featured in a separate article a few days ago. No, I want to tell you about a different type of electric car that will be making its way onto our roads in the near future.
One of the most important things about these cars that make them different is that they will be affordable. Many of the new types of electric and plug-in hybrid cars that will be coming out on the market will be beyond the budget of the average person—the Chevy Volt will cost $40,000, and the Tesla $100,000—while the electric cars of the near future will be much more in the budget range of the average person.
Imagine that? If you had your choice of buying a gas-powered or electric-powered sedan that each cost about the same amount of money, which do you think you would buy?
That's the dream of two separate entrepreneurs, with two separate car companies, and if all goes well, this dream will be coming to a car dealership near you very soon.
Let me tell you about both of these companies. You can also watch the video above from CBS News to learn about one of these companies.
The first company is called Better Place, and was started by Silicon Valley millionaire Shai Agassi. Agassi's dream has enticed serious venture capitalists, whom have sunk $1 billion into it. One large venture firm said, "I think it's one of those seminal companies that is going to change the way the world functions."
Agassi's idea is to get the world's car companies to build electric cars with swappable batteries, so that you're not buying the battery, only the car.
Agassi's plan is in three steps. 1: Persuade the world's car companies to make electric cars with swappable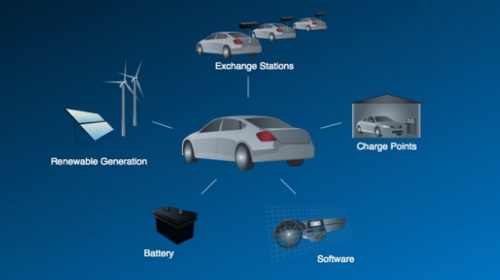 batteries. 2: Persuade governments to install millions of recharging outlets. 3: When people want to go on longer drives, when there's no time to recharge the battery, build battery-swapping stations all over the world.
When you're driving and your battery starts to run low, you stop at a swapping station and swap out the battery. Because you don't own the battery, you pay for miles, similar to a prepaid cell phone, where you pay for minutes.
But this is not just a pipedream. So far, the countries of Israel, Denmark and Australia, and the province of Ontario in Canada, and the state of Hawaii in the U.S. have all signed on and agreed to build the recharging outlets that are needed. The San Francisco/Bay Area is also close to signing on. And the carmakers Nissan and Renault have agreed to manufacture the first battery-swappable cars.
Agassi also plans to have the cars plug into an energy grid that is from a renewable power source.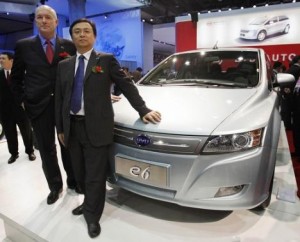 The second company is a Chinese battery maker turned automaker, BYD. They have produced a plug-in electric car that goes 62 miles on a single charge and will sell for $22,000, which is less than a Prius.
Warren Buffet has bought 10% of BYD, because he believes BYD "has a shot at becoming the world's largest automaker, primarily by selling electric cars."
One of the things about the batteries in these cars is that they will be 100% recyclable, so there won't be the concern about the toxic byproducts that other electric car batteries produce.
BYD also has the advantage of the Chinese government support—China has been pouring huge subsidies into clean cars. Chinese leaders have adopted a plan aimed at turning the country into one of the leading producers of hybrid and all-electric vehicles within three years, and making it the world leader in electric cars and buses after that.
So, there you have it. Two companies moving us closer to the reality of electric cars that everyone can afford.
And as more and more people begin driving electric cars, that will mean that more and more people will be treading lighter on the planet, which will help to create a Low Density Lifestyle environment on the earth.
Let others know about this article by posting it on Twitter! It's easy – just click on the "tweet it" button below.