The Monsanto Food Corporation – don't you just love Monsanto!
I mean, check out the above video – they are helping farmers to feed the world! Who doesn't want to feed the world? Who doesn't love farmers?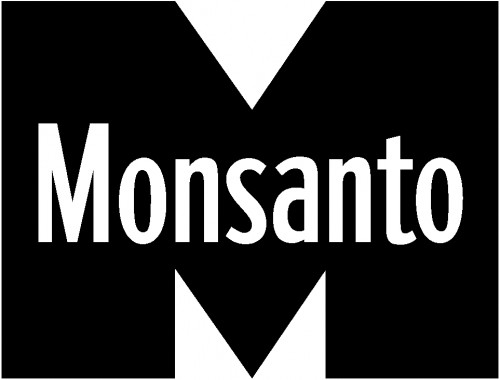 Really – it's Monsanto to the rescue!
What? Are you saying something? Are you saying Genetically Modified Organisms (GMOs) – which is Monsanto's handiwork – don't produce more food, and aren't proven safe, and Monsanto gets to patent seeds and already has infected most food staples (nearly 100% of corn, wheat, soy is GMO!), and sue farmers and push traditional farmers to bankruptcy and mass suicide?
Oh, c'mon, get with the program – don't you just love Monsanto?
I mean, here is their mission statement, from their website: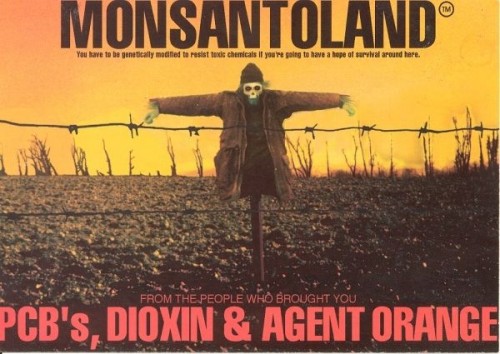 Monsanto is an agricultural company. We apply innovation and technology to help farmers around the world produce more while conserving more. We help farmers grow yield sustainably so they can be successful, produce healthier foods, better animal feeds and more fiber, while also reducing agriculture's impact on our environment.
Furthermore, on their website, Monsanto has a pledge. This is what they pledge:
Integrity

Integrity is the foundation for all that we do. Integrity includes honesty, decency, consistency, and courage. Building on those values, we are committed to:

Dialogue

We will listen carefully to diverse points of view and engage in thoughtful dialogue. We will broaden our understanding of issues in order to better address the needs and concerns of society and each other.

Transparency

We will ensure that information is available, accessible, and understandable.

Sharing

We will share knowledge and technology to advance scientific understanding, to improve agriculture and the environment, to improve crops, and to help farmers in developing countries.

Benefits

We will use sound and innovative science and thoughtful and effective stewardship to deliver high-quality products that are beneficial to our customers and to the environment.

Respect

We will respect the religious, cultural, and ethical concerns of people throughout the world. The safety of our employees, the communities where we operate, our customers, consumers, and the environment will be our highest priority.

Act as Owners
to Achieve Results

We will create clarity of direction, roles, and accountability; build strong relationships with our customers and external partners; make wise decisions; steward our company resources; and take responsibility for achieving agreed-upon results.

Create a Great
Place to Work

We will ensure diversity of people and thought; foster innovation, creativity and learning; practice inclusive teamwork; and reward and recognize our people.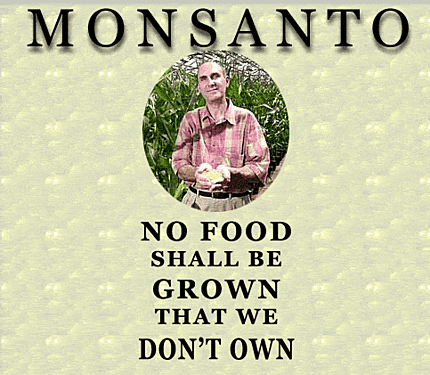 I mean, what an enlightened philosophy. What a beautiful philosophy. C'mon, repeat after me, Don't You Just Love Monsanto?
What, you got a problem with that? This is a company that has produced saccharine, aspartame, Agent Orange, bovine growth hormone, PCB's, DDT, and genetically engineered seeds.
I mean, c'mon, they've produced some of the finest things ever. And I mean ever.
Ok, so they sue farmers who aren't happy with genetically modified seeds. But let's get real – those farmers getting sued are pesky and aren't with the program. They obviously don't know how to show the love for Monsanto.
And what Monsanto is saying is, if you're not going to show us the love, we're going to sue you.
So, listen to me: let's show Monsanto the love. Or else, they might show sue you or me.
Below are two videos: the first is a short factual piece about Monsanto's bovine growth hormone and their efforts to not allow milk without bovine growth hormone in it labeled as such.
The second video is the trailer from the film Food, Inc. Although Food, Inc. is not just about Monsanto (although the film does go into Monsanto's dark side), it is a film about the American food supply, and how we have lost touch with where our food comes from.
Which is precisely what Monsanto wants.