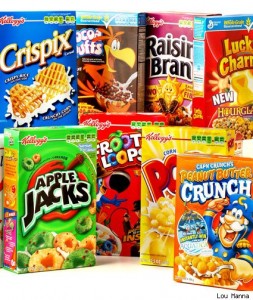 It's long been known that most of the breakfast cereals out there can cause obesity. They're high in sugar, and as I pointed out in yesterday's article, sugar is a cause of obesity.
They're also highly processed foods, which is another cause of obesity.
And thanks to the fact that a lot of breakfast cereals are marketed to children, there is an alarming rise in childhood obesity.
Most cereals marketed to children are high in sugar, high in sodium, and low in fiber. Many are highly colorful because of artificial dyes, making healthier cereals, very literally, pale in comparison.
Reinforcing the myth that children will not eat low-sugar cereals,
the cereal industry has funded a number of studies that find that highly-sweetened cereal is good for children, especially when compared to having no breakfast at all.
But now, Kellogg, the world's largest cereal maker, is claiming that their breakfast cereal Cocoa Krispies, which is their chocolate flavored version of Rice Krispies, can boost the immune system of children and help them stave off illness.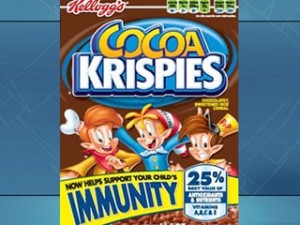 Boxes of Cocoa Krispies carry a banner proclaiming "Now helps support your child's IMMUNITY." Parents are led to believe that eating a bowl of the sugary cereal at breakfast will help bolster their child's ability to fight off infection from a variety of diseases.
Here are the ingredients of this "immune boosting" food:
RICE, SUGAR, COCOA PROCESSED WITH ALKALI, SEMISWEET CHOCOLATE (SUGAR, CHOCOLATE, ANHYDROUS DEXTROSE), PARTIALLY HYDROGENATED VEGETABLE OIL (ONE OR MORE OF: COCONUT, SOYBEAN AND/OR COTTONSEED), SALT, MALT FLAVORING, CALCIUM CARBONATE, HIGH FRUCTOSE CORN SYRUP, ARTIFICIAL FLAVOR, ASCORBIC ACID AND SODIUM ASCORBATE (VITAMIN C), IRON, ALPHA TOCOPHEROL ACETATE (VITAMIN E), NIACINAMIDE, ZINC OXIDE, VITAMIN A PALMITATE, PYRIDOXINE HYDROCHLORIDE (VITAMIN B6), RIBOFLAVIN (VITAMIN B2), THIAMIN HYDROCHLORIDE (VITAMIN B1), FOLIC ACID, BHT (PRESERVATIVE), VITAMIN D, VITAMIN B12.
Sounds real yummy and healthful, doesn't it?
Fortunately, the public isn't buying into Kellogg's claims. San Francisco city attorney Dennis Herrera wrote Kellogg CEO David Mackay last week, asking him to provide proof in 30 days that his cereal boosts immune systems. Kellogg is misleading consumers to make them think that Cocoa Krispies are a healthy food, Herrera says.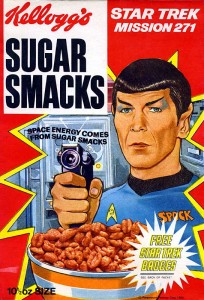 He also says parents may think the cereal is effective warding off swine flu at a time when public health officials encourage children to get vaccinated.
"Immunity claims may also mislead parents into believing that serving this sugary cereal will actually boost their child's immunity, leaving parents less likely to take more productive steps to protect their children's health," Herrera wrote in his letter, which also was sent to the Food and Drug Administration and the U.S. Justice Department.
Susanne Norwitz, a Kellogg spokeswoman, defended the claim and said that the company added antioxidant vitamins A, C and E to its Cocoa and Rice Krispies products after studies showed the vitamins play a key role in the immune system.
Kellogg's health claim "belongs in the hall of fame," said Kelly Brownell, director of Yale University's Rudd Center for Food Policy and Obesity. "By their logic, you can spray vitamins on a pile of leaves and it will boost immunity."
Brownell says adding vitamins doesn't make the food an immunity booster. "What really matters is what those things come packaged with – in the case of a cereal like Cocoa Krispies – which is more than 38 percent sugar, it's not being delivered in a very good vehicle," Brownell says.
The bottom line is that a poor nutritional food like Cocoa Krispies – if you can call it a food – will weaken your immune system, not boost it.
And it can also lead to obesity, which pretty much is the same thing as saying that it will weaken your immune system.
And it will lead you straight down the path of a High Density Lifestyle.