If you watch the TV show Lost, you are lost. And confused. Maybe even dazed and confused.
Don't deny it. You know it's one long-winded, endless stretch of episodic television with elements of sci-fi, time travel, adventure and drama rolled into one.
This year is to be the final, final end to this series that has carried on for six years.
And now, for the sake of public service, and in order to save you many, many hours of watching commercials interspersed with the occasional episode of Lost, I thought it might be helpful if I were to reveal how Lost is to end.
This is an exclusive only to readers of this website, so I ask you to please keep this a secret.
Believe me, I went to great lengths to get this information. I had the crack undercover team here at Low Density Lifestyle World Central Headquarters infiltrate ABC corporate offices – which was no mean feat of and by itself, as it meant tunneling underneath the building and then constructing an elevator shaft that took the crack undercover team to the Lost production offices, where they had to dynamite open the safe that contained all the scripts for the remaining shows.
But as you're well aware, we here at Low Density Lifestyle World Central Headquarters spare no expense when it comes to taking care of you, our loyal reader.
And so, without further ado, and to carry on with the theme of this series – which is humor – here now is how Lost ends.
Lost – The Final Episode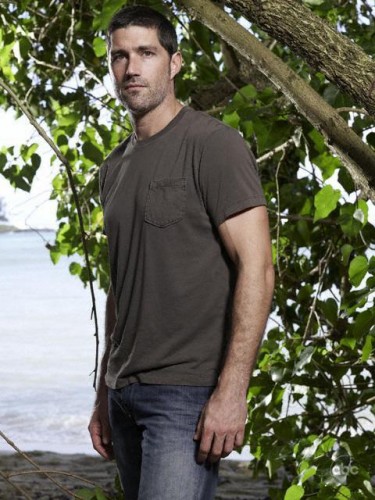 Jack Shephard is sitting on a beach looking out at the water, talking to Hurley.
Jack: It is my destiny to be here, I now know that. I'm not a man of science but a man of faith. All the signs have pointed me in this direction, and now I know that.
Hurley: I see dead people.
Jack: Hurley, you know I'm right.
Hurley: Right now I'm seeing Ronald Reagan and Karl Marx having a beer and oh, my God, Marx has just converted Reagan to communism! Reagan is going back in time and redoing the 80's, and is rescinding the tax cuts and is going to tax the wealthy instead. He's saying his trickle-down economics was a sham. And he's setting up single payer health care. My God, Jack we have to stop this!
Jack: You have a problem with that Hurley?
Hurley: Yeah cause he's getting rid of Nancy Reagan's astrologer, saying he's not going to run the country anymore based on his horoscope.
Jack: Forget it Hurley. Listen, did you ever notice that many people that we've met have either the complete names or last names of famous philosophers?
Hurley: 4, 8, 15, 16, 23, 42?
Jack: John Locke, Jeremy Benthem, Daniel Faraday, Danielle Rousseau, Desmond Hume, Juliet Burke, Eloise Hawking. Even the temple master Dogen. It bugs me that I don't have a name linked to a famous philosopher, it really does. I blame my father for that. He's Christian, I'm just Jack. Just plain old Jack. Hit the road Jack, and don't you come back no more, no more.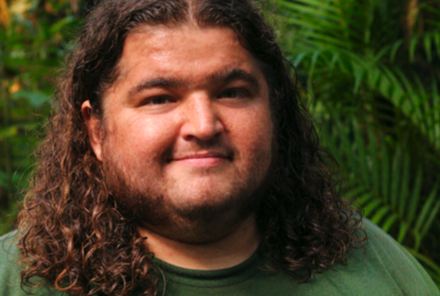 Hurley: Yeah, but Jack, you're a shepherd, one who leads the flock.
Richard Alpert walks up to them.
Richard: Be here now.
Jack: See what I mean? Even ageless Richard gets a famous name. Where's your buddy Timothy Leary?
All of a sudden two men parachute down on the island, right in front of Jack, Hurley and Richard.
Jack: What the…? Who are you?
Parachutist 1: My name is Einstein. I am here to talk about relativity theory and time travel, and to tell you that time travel is impossible.
Parachutist 2: My name is Niels Bohr. Einstein knows squat about quantum theory, and so he says God does not play dice with the universe. Time travel is definitely possible.
Einstein: Bohr, you know nothing about science. You are a fantasist, like the people on this island. God does not play dice with the universe. Period.
Bohr: How can you presume to tell God how to run the universe?
Einstein: Quantum theory is a crazy ghost in the atom theory. It makes no sense.
Bohr: Albert, wake up. These people have been traveling through time for awhile.
Jack: He's right, Mr Einstein.
Einstein: Poppycock.
Einstein runs away, with Bohr right behind him.
Just then a submarine surfaces by the beach, the hatch opens, and a man pops his head out.  It is Charles Widmore.
Charles: Excuse me, I'm looking for a Burger King. I'm famished. Do you know if this island has one? I know it has all kinds of magical abilities.
Richard: It's the next island over. Go left for 10 miles, then you'll see it.
Widmore closes the hatch and the submarine submerges.
Hurley: Oh damn, they left. I wanted to go with them. I could sure use a burger.
On another part of the island, in a time ill-defined, two men are sitting next to one other. One, dressed in white, is named Jacob, while the other is dressed in black.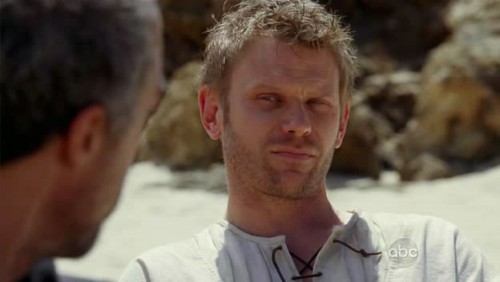 Jacob: I bring them to the island and then I play with them until they can't take it anymore and go insane.
Man in Black: That's why I hate you and want to kill you.
Jacob: But if it wasn't for me, all these people would have no reason to live.
Man in Black: And you keep me on this island like I'm wine corked in a bottle.
Jacob: Yes, but you're a very fine wine.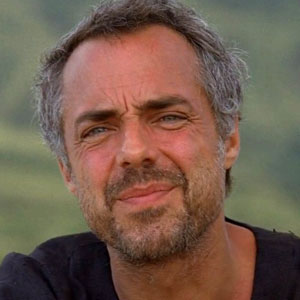 Man in Black: I want to spill that wine and dig that girl.
Jacob: Did I dream I was in a Hollywood movie?
Man in Black: You're always getting the last word. That's why I hate you and want to kill you. I'm going to turn into a smoke monster and see who I can eat.
Jacob: Just remember: I keep the smoke extinguisher under lock and key.
Man in Black: That's why I hate you and want to kill you. One day I will. And then I will leave this island and tell the entire world that you are mad.
Jacob: You are mad.
Man in Black: No you are mad.
Jacob: You…
Man in Black: No, you…
Jacob: That's it, it's arm wrestling time to decide.
Man in Black: Not again.
We see John Locke standing on the beach talking with Sayid and Sawyer.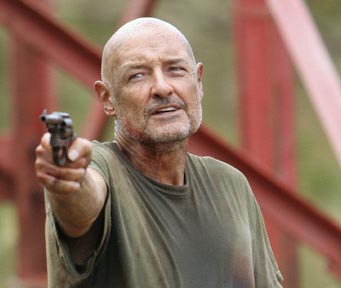 John: I want to get off this island. I want to experience the world. I want to do a walkabout in Lincoln, Nebraska. I want to count the stars on the Hollywood Walk of Fame. I want to chase giraffes at the zoo. I want to smell the lilacs in the dead of winter. I want to stay out till 3 in the morning and pee into the wind. I want to ski the Swiss Alps in the dead of summer. I want to watch Aurora Borealis while camping out in Antarctica. I want to win at backgammon. I want to see my father again.
Sawyer: Son of a bitch! That dirty little coward who shot Mr. Howard and laid poor Jesse in his grave?
Sayid: Huh?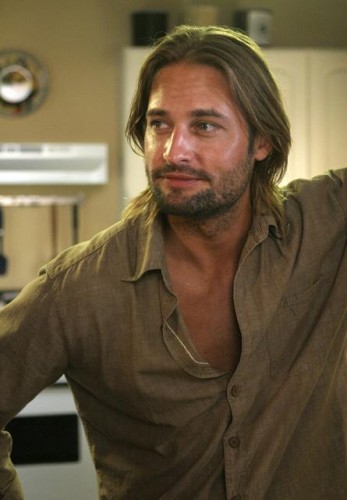 Sawyer: Don't worry Sayid. It's an American thing. How about you Sayid? If you got off this island, what would you do?
Sayid: I miss torturing people, sticking heated toothpicks under their fingernails and getting them to confess up to things they did, like standing in the express line at the grocery store, even though they had 20 items in their cart in a 15 item limit lane.
Sawyer: You're one mean hombre.
John: How about you Sawyer? Why do you want to get off this island?
Sawyer: I want to take Kate away from here, and teach her all the best cons I know. We'll be one helluva team.
John: So this is how we will get off this island. Sawyer, I want you to go to that other island where the other plane crashed, retrieve the plane, killing anyone who gets in your way. Once you do that, fly it back over here and pick me up. While you're doing that, I'm going to pour sunscreen over my bald head and work on my tan. And Sayid, now that the darkness has penetrated your heart and you're no longer a nice torturer, I want you to be an evil torturer.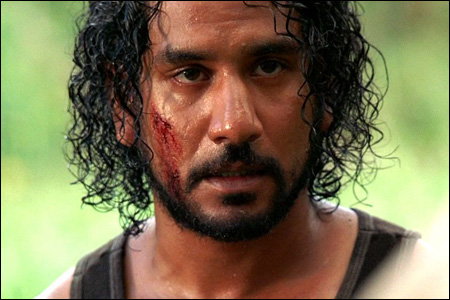 Sayid: I can do that.
Sawyer: Locke, you think I'm going to do all that for you? Son of a bitch. You're crazy. I don't care if you're a smoke monster or the man in the moon. There's only one person I look out for, and that's the producer of this TV show. How do you think I've been able to be on this show all these years, even after they've written off most of the cast?
John: James, I always thought you were the smartest of the bunch. And definitely smarter than that surgeon, what's his name?
Sawyer: Shephard? Son of a bitch. Don't ever mention his name to me. Once I get off this island, I never  ever want to think of him ever never again.
Sayid: Shephard…Shephard…Shephard…Shephard…Shephard…Shephard…
Sawyer falls down to his knees, hands covering his ears, crying and pleading with Sayid to stop.
John: Sayid, you're the best torturer I've ever met. I think we now have James under our thumb.
Ben Linus is walking in the woods by himself, and talking to himself.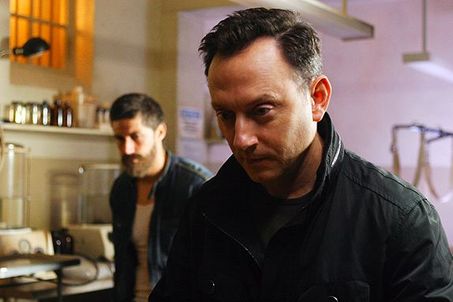 Ben: I finally have a plan that will allow me once again to be in control of this island. I'm going back to the wheel and I'm going to turn it again. This time, I'm going to do the reverse zucchini move, which was done just once by the Others, 70 years ago. Richard told me about it. If I do it right, everyone will be transported off the island except for me, and then I can once again be in control and be the boss. If I get it wrong, I blow up the island, but what's a little mistake amongst friends?
Ben keeps walking until he comes to a set of stairs. He descends them for what seems like an eternity, and comes to the wheel. He turns it, using all his might. The sky goes white and Ben passes out.
When Ben comes to, he is still by the wheel. He runs up the stairs and gets to level ground, only to find everyone on the island standing there.
Ben: What are you all doing here?
Jack: I don't know. The sky went white and the next thing I knew I was right here. Did you do something Ben? You're usually up to no good.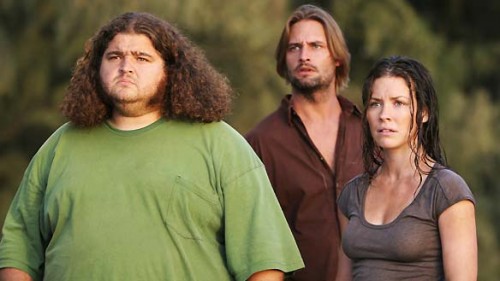 Kate: Yeah Ben, you're the cause of all these problems.
Ben: I didn't do a thing. I went down there because Jacob told me to.
Hurley: I see dead people, you don't. Jacob didn't tell me anything about that.
Sayid picks up a rock and prepares to throw it at Ben.
Sayid: Ben, you need to apologize.
Sayid throws the rock but it hits Jack in the head, knocking him out.
Jack wakes up in a hospital bed. It's the same hospital that he used to work at. His father, Dr. Christian Shephard, is standing over him.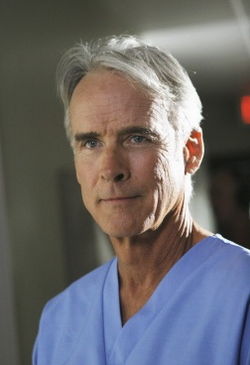 Christian: That was quite the fall you took there son. I'm glad to see you've opened your eyes. You were out for quite awhile.
Jack: Dad? Where am I? How can you be alive?
Christian: Should I not be alive?
Jack: But you died in Australia, and then I went and got your body and was on the Oceanic Airline Flight 815 that crashed and all of us survivors had to fight off all these things, and then 6 of us left the island only to decide to go back to save the others who were left behind.
Christian: Jack, you were blabbering this stuff while you were unconscious, and it got me concerned, so I brought in a team of the best cognitive specialists in the world to examine you and talk with you. Let me introduce you to them…
A team of doctors walk into the room.
Christian: This is Doctor Hugo Reyes, and Doctor John Locke, and Doctor Kate Austen, and Dr. James Sawyer Ford, and Dr. Sayid Jarrah, and the husband and wife team of Dr. Sun-Hwa Kwon and Dr. Jin-Soo Kwon.
The doctors in unison: Hello Jack.
Jack: What?!? What are all you doing here? You should be on the island. We're trying to get off.
Dr. Reyes: Jack, it's ok. You've had a traumatic brain injury and you've been having delusional episodes. But you're going to be alright with some rest and rehab time at the institution.
Jack: But Hurley, don't you get it? Something's not right.
Dr. Locke: You're going to be ok Jack.
Jack gets out of the bed and walks to the window and looks out. He sees a submarine flying through the air. The hatch opens and Charles Widmore pokes his head out the hatch and motions to Jack to join him. Jack opens the window and jumps out right into the hatch. Widmore helps him down the hatch and closes it, and then the submarine takes off.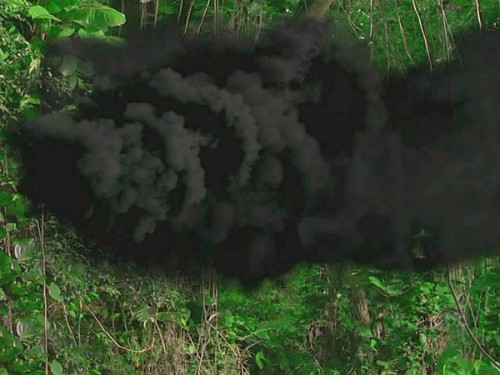 Just then, the smoke monster enters the hospital room and eats all the doctors in the room, including Christian Shephard.
We see Desmond Hume walking down the street, talking straight to the camera.
Desmond: You see brother, it was all quantum theory. They were stuck in a parallel universe, and until I came around to unstuck them, brother, they were just going to live their lives in a dream world, two separate realms unconnected, brother. And thinking it was all just a dream, brother. But the reality is that it's all my dream, I've conjured it up. It was all just a penny for my thoughts, brother. So come with me, into my universe, and let's travel through to another time, a time where Oceanic Flight 815 did and did not exist, a time where dead cats were alive, a time where smoke monsters could drink bottles of the finest wine and still dig that girl, and Johnny Cash was the only Man in Black that mattered, brother.
A van pulls up to the curb near where Desmond is standing. The van has the words "Santa Rosa Mental Health Institute" written on it.
A man gets out of the van and motions to Desmond. It is Ben Linus.
Ben: C'mon Desmond, time to go back home.
Desmond: Do I have to, Dr. Linus?
Ben: Yes, Desmond.
Ben leads Desmond into the van.
Ben then looks into the camera.
Ben: It's all a dream alright. It's my dream. I'm in control.
Ben gets in the van and the van drives off into the sunset.
THE END