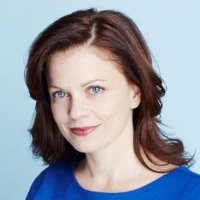 Not too long ago, I did an interview with Heidi Sieck, civic entrepreneur and feminist activist, for my Interviews with the Leading Edge video interview series.
Heidi is Co-Founder/CEO of #VOTEPROCHOICE and most recently the founding Chief Operating Officer of Democracy.com and Civic Hall.
The 45th anniversary of the Supreme's Court's decision on Roe v. Wade is today, Jan. 22, 2018, and in support of that, Heidi's organization, #VOTEPROCHOICE , is launching a "ROE-VOLUTION" to commemorate this.

Here is more information on this, from #VOTEPROCHOICE:

NEW YORK – #VOTEPROCHOICE, a radically inclusive political engagement platform focused on electing prochoice champions up and down the ballot, announced its campaign to endorse and elect over 300 prochoice champions in 2018.
Heidi Sieck, Co-founder and CEO of #VOTEPROCHOICE believes the ROE-volution campaign will drastically shift the political narrative that prochoice champions cannot win in red or even purple areas.
"We're singularly focused on taking out democrats who fail to protect reproductive freedom or antichoice politicians hellbent on restricting abortion access and vital healthcare services," said Sieck. "Last year we saw powerful prochoice victories in Georgia, Alabama, North and South Carolina and Virginia. What we now know to be absolutely true is that we can flip any district when we talk openly about reproductive rights."
On the 45th Anniversary of Roe v. Wade (January 22nd), #VOTEPROCHOICE's ROE-volution launches with an open call for progressive prochoice candidates across the country to seek the group's endorsement.
Current #VOTEPROCHOICE ROE-volution candidates:
Marie Newman – running for Illinois' 3rd Congressional District is looking to beat antichoice Democrat Dan Lipinski in the primary on March 20
Joyce Mason – running for Illinois House District 61 is looking to unseat antichoice republican Sheri Jesiel who has been serving since 2014
Aryanna Berringer – running for Pennsylvania's Lieutenant Governor is looking to be the state's first women to serve at an executive level. Pennsylvania has a horrible track record on reproductive rights.
Julie Gonzalez – running for Colorado's State Senate District 34 and as a lifelong advocate for reproductive rights is the right fit for the voters in Colorado's 34 district.
Since 2016, #VOTEPROCHOICE has worked tirelessly to elect prochoice candidates at every level of government. As part of the 2017 resistance movement, #VOTEPROCHOICE endorsed 60 candidates, sent out over 3 million #VOTEPROCHOICE Voter Guides, texted with over 200,000 voters to help turn out the prochoice vote in elections from school board to statewide judicial races. Sixty percent of our endorsed candidates were elected.
Sieck continued, "By launching boldly into 2018 we will prove what we know to be true—America is a prochoice nation. When candidates lead on reproductive rights they win. The resistance is clearly eager to see more wins and we're ready give them the chance with high quality prochoice champions who will really fight for the well being of everyone."
For more information on #VOTEPROCHOICE or the ROE-volution campaign, please contact Linsey Pecikonis at linsey@voteprochoice.us or 202-746-8426.
I have a new free six-day email  course that I am offering, entitled  Enlightened Living: 6 Ways to Build an Authentic, Serene and Healthy Life. Read more about it here: The Enlightened Living Course or you can just sign up below to receive the course.
[gravityform id="2″ title="true" description="true"]