Recently on the Daily Show, correspondent Jordan Klepper went to a Donald Trump rally to check with people about their beliefs regarding a number of things: Hillary Clinton's health, her body double, who Barack Obama really is, and Donald Trump's relationship with African-Americans.
You can watch the video above.
The remarks from people on all these were pretty eye-opening and ridiculously nonsensical. It would have been hilarious if not for the fact that the Trump supporters really believe the nonsense and delusions that they say. There were no facts backing up anything they said, it's just their opinions.
It's amazing the delusions people allow themselves to believe.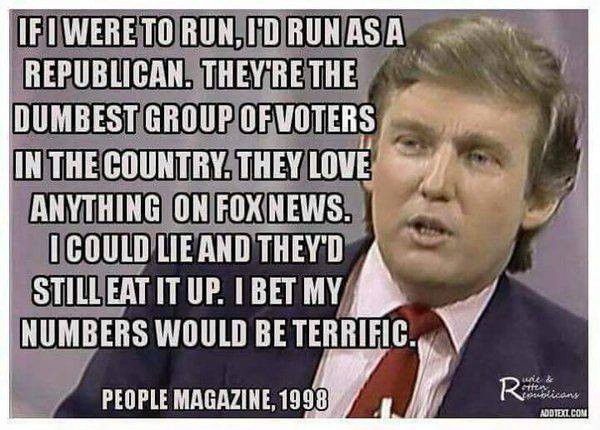 Trump supporters said things like:
Hillary Clinton has Parkinson's, MS, AIDS (the AIDS is because of Bill Clinton's dalliances with Magic Johnson)
Hillary Clinton has a body double
Barack Obama is a Muslim and a terrorist, and wasn't born in the U.S. (regardless of what his birth certificate says)
Barack Obama is a Muslim because of the jewelry he wears
Barack Obama played a big part in 9/11
It's incredible how people can walk around spouting such nonsense, regardless of what the facts say. It's like they're brainwashed.
And as Trump says in the quote above,
If I were to run, I'd run as a Republican. They're the dumbest group of voters in the country. They love anything on Fox News. I could lie and they'd still eat it up. I bet my numbers would be terrific.
Welcome to the dumbing down of the U.S., where people believe in nonsense and delusions over facts. We might as well elect the tooth fairy to be our next president.