At 94 years old, John Goodenough is at the age where many of his peers would either be pushing up daisies or sitting at home or an assisted living facility, doing their best to hold onto their lives.
But not John Goodenough. He's never taken no for an answer, never settled for the status quo. When he was 23, he was an Army veteran who, with the help of the G.I. bill, enrolled at the University of Chicago with the dream of studying physics. When he arrived, a professor warned him that he was already too old to succeed in the field. He told that professor hell no, and went on to get not only his undergraduate degree in physics but also a doctorate in the field.
In 1980, when he was 57, he co-invented the lithium ion battery, the battery that revolutionized the world by making laptops, cell phones and even electric cars – all powered by lithium ion batteries – possible.
A Revolution in Electric Cars
And now, he has revolutionized the world once again. Goodenough, still active in his field and working at the University of Texas at Austin, along with his team, has just announced a new kind of battery that would be so cheap, lightweight and safe that it would revolutionize electric cars and kill off petroleum-fueled vehicles. 
What he has developed is the first all-solid-state battery cells that could lead to safer, faster-charging, longer-lasting rechargeable batteries for handheld mobile devices, electric cars and stationary energy storage. 
This is an astonishing breakthrough. This quantum leap in technology will lead to cheaper-priced electric cars that can go far longer in terms of distance traveled than any electric car on the market today. And the price of electric cars, due to their battery costs, and the distance a car can travel, due to the limitations of how long a lithium ion battery can hold a charge, is what has impeded the electric car from becoming more accessible to the general public.
Goodenough has just innovated the most important breakthrough in technology since his development of the lithium ion battery, and it is conceivable that this new battery will lead to his winning a Nobel prize. If he does, he would be the oldest person ever to win the coveted award.
This is a beautiful story from many perspectives. What Dr. Goodenough has done, in creating this new battery, is to potentially take us to a new level of innovation in the field of renewable energy. As this new technology gets developed further, it will radically reform the fields of energy and transportation and further reduce the need for petroleum whatsoever.
And from another perspective, what this story also tells us is about the indomitable human spirit, the capabilities we all have to be creative and be innovators, no matter our age, level of expertise, the work we do, or the lives we live. There is nothing that can stop us, if we set our minds to it.
Outside the Comfort Zone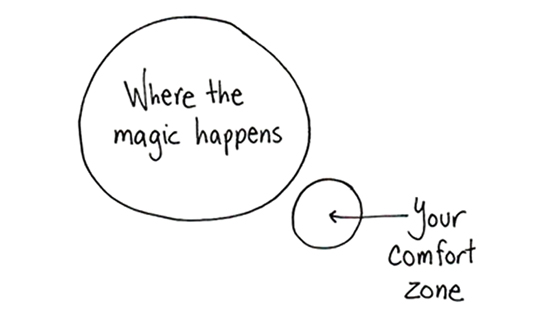 It's easy to stay in the comfort zone, in our safe space where you never have to venture out. But if you do take a chance, a risk, at doing something outside your comfort zone, that's where the magic happens.
John Goodenough (an appropriate name if ever there was one) could have said "I'm 94, I've had a good life, I'm going to call it a career and stay home and rest," but instead he has kept pushing the envelope. And that's because he knew that the spark of innovation and creativity that lies in each of us continually propels us forward.
Goodenough also credits the fact that he always has kept his mind open to possibilities for his recent breakthrough. Two years ago, while searching for answers to his research on batteries, he discovered the work of Maria Helena Braga, a Portuguese physicist who, with the help of a colleague, had created a kind of glass that can replace liquid electrolytes inside batteries.
A lesser person would have felt jealous or resentment that a competitor was infringing on their work, but Dr. Goodenough is not that kind of person. Instead, he persuaded Dr. Braga to move to Austin and join his lab. The results of their collaboration bore fruit with their recent announcement of the new battery.
Dr. Goodenough said this about the way he keeps his mind open: "I'm grateful for the doors that have been opened to me in different periods of my life." He believes the glass battery was just another example of the synchronicities that have come his way: "At just the right moment, when I was looking for something, it walked in the door."
Our Infinite Reservoir of Creativity and Innovation
When we keep our minds open to what can be, when we allow Yes to be the Answer to problems that come our way, we open our minds to that great infinite reservoir of creativity and innovation that we hold.
Creativity and innovation are our birthrights – never let anyone tell you otherwise. It doesn't matter the age – witness Dr. Goodenough's breakthrough at age 94 – it doesn't matter your level of skill or expertise, your station in life, your income level, your gender or race: it's in you and waiting to come out.
There's a myth that says that creativity and innovation are traits of youth, and as you age your ample supply of creativity dries up. But Dr. Goodenough's story shows us that people actually become more creative and innovative as they grow older, because they gain more experience and wisdom over time.
George Bernard Shaw once said, "You see things; and you say 'Why?' But I dream things that never were; and I say 'Why not?' "

This is what separates those who tap into their infinite store of creativity and innovation from those who don't. Again, this is a birthright and something we all possess. But what separates those who tap into it from those who don't is not age nor skill, but the ability to take a chance, to take a step outside the comfort zone of what looks comfortable and feels safe and predictable.
Anytime you feel stuck in a rut and then decide to do something about it, you are stepping outside your comfort zone and causing an innovation in your life. As you do so, you access your unlimited power, because you are making available your birthright of creativity and innovation.
And this is how we change the world and create a Quantum Revolution: by tapping into our birthright of creativity and innovation, and using our power to get past what seems like insurmountable difficulties, we then create transformation in our own lives, the lives of others, and the world.
I have a new free six-day email  course that I am offering, entitled  Enlightened Living: 6 Ways to Build an Authentic, Serene and Healthy Life. Read more about it here: The Enlightened Living Course or you can just sign up below to receive the course.
[gravityform id="2″ title="true" description="true"]