"A house divided against itself cannot stand."
So said Abraham Lincoln in an address he gave on June 16, 1858. Within a couple of years after he spoke those words, the American civil war began, creating a house divided that certainly did not stand.
In this day and age, 158 years after Lincoln's remarks, we again find ourselves a house divided. The level of partisan rancor is toxic, with citizens pitted against one another because of their seemingly different political and philosophical beliefs.
If we don't heal this divide, it will surely tear us apart until we cannot stand.
The unfortunate thing about this division is that it is an artifice – when you cut to the chase, we all want the same thing. We want to be happy, healthy, secure. We want to be heard and respected. We want to be loved. And we want to feel that we are in community with others.
If indeed, as some say, we are all brothers and sisters, if we are all connected symbiotically, then why are we so divided? Why do we hurl vitriolic spew at one another?
This is the big short – we are selling ourselves short. Artificial divisions have surfaced that are tearing us apart and creating a house divided.
What's Dividing Us?
This is a divide that needs to be healed. Yet, in order to understand how to heal this divide, two questions have to first be answered: Where did this divide come from? And, How did we get to be so divided?
I am not one for conspiracy theories, but I do believe the answer to these two questions is: there is a select few, using the age-old philosophy of divide and conquer, who have created an American populace divided. They have done so to further their agenda and achieve their aims.
Who are these select few? They are the donor class, the billionaires who have bought undue influence on our political system. Charles and David Koch – aka the Koch Brothers – are the ringleaders, but there are other wealthy patrons allied with the Kochs, such as the DeVos family, the Scaifes, the Bradleys, the Olins, Sheldon Adelson, Harold Hamm, a few Wall Streeters, and others, all working in tandem with the Kochs to subvert our system.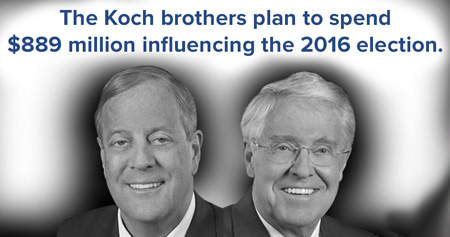 They have fought their battle primarily through a war of ideas, one in which the final victory is measured by the domination of a perverted form of libertarianism. Their agenda includes less or no government regulations, especially on the environment (the Kochs are the biggest polluters in the nation, so less government regulations allows them to pollute forever and maximize their profits); less taxes (so they can pay less); a refutation of climate change science; cutting Social Security, Medicare, Medicaid and food stamps; stopping the Affordable Health Care Act; getting rid of campaign finance restriction laws; less government and less government expenditures; more corporate subsidies; and much, much more.
The War of Ideas
It's a war of ideas going on 40 years now, a war they are winning. This war of ideas has been channeled through think tanks, scholars, universities, pundits, the media, fake grassroots activists (these groups are known as Astroturf organizations, because they're synthetic and not real grassroots), religious organizations, and politicians – all of whom have been sponsored and subsidized by the Kochs and the donor class.
For instance, when the Kochs began their fight against the Affordable Health Care Act, they paid then-Fox News pundit Glenn Beck one million dollars a year to say things against the health care bill on the air, in order to help shape the debate against the bill. They wrote it; he said it.
One million was a drop in the bucket compared to the money spent over the years – billions and billions of dollars, enough to buy their way into a takeover of the minds, hearts and soul of America.
Because at this point they are winning the war of ideas, a lot of people have become convinced that their doctrines are the truth. The Kochs and their crew, with an almost religious conviction to their notions, have successfully spread their ideas as gospel.
But their judgments only serve them. Their interests don't mesh with the interests of hundreds of millions of Americans. Most people are hard-working, struggling to pay bills and put food on their table, and dealing with issues far removed from the problems billionaires have.
How Falsehoods Become Believed as Truths
Most Americans are good people who want to be, as I said above, happy, healthy, secure, heard and respected, loved, and also to feel part of a community. When authority figures speak to them, they tend to believe what they hear. And when multiple authority figures state the same thing, these perspectives become cemented in their minds.
These viewpoints are continually disseminated, in echo chamber after echo chamber, in think tanks, in the media, and by Republican politicians. These ideas emanate from the worldview of the Koch brothers and allies, and are not based on facts or reality. Unfortunately, when falsehoods and distortions are repeatedly stated and made to sound factual, it doesn't take long before people come to accept and believe them as truth.
And the ironic thing about these distorted truths is that they run counter to the best interests of the people who have been manipulated into believing they are true.
Last fall, I wrote a series of articles that examined the distortions people believe and say, within the context of the presidential election campaign. The first article I wrote was called The Nonsense and Delusions People Believe as Truth, the next was called How to Brainwash Your Monkey, and the last was called How Krishnamurti Unbrainwashed His Monkey. In these articles, I looked at how and why good-hearted, regular Americans could say illogical things with no basis in facts or reality.
It's not that difficult to get people to say and believe things that aren't true. All it takes is hearing a falsehood repeated a number of times, which can then transform what's been heard – no matter how preposterous – into a perceived truth. It was Joseph Goebbels, the minister of propaganda in Nazi Germany, who understand this well and summed it up by saying, "If you tell a lie big enough and keep repeating it, people will eventually come to believe it."

That is the essence of brainwashing. Keep repeating a lie often enough till it becomes believed as truth. Once this occurs people will then uncritically and unfailingly believe the lie. And this, chillingly enough, is how cults operate.
This is the handiwork of the Kochs and company. They have spent billions of dollars to push their agenda – an agenda favoring their interests at the expense of everyone else – and by doing so have brainwashed regular Americans into believing this agenda and then parroting it back for all within shouting distance to hear.
And that's how we've arrived at a house divided.
Healing the Divide in America
One of the greatest U.S. Supreme Court Justices was Louis Brandeis, who sat on the Supreme Court from 1916 to 1939. Considered one of the most famous and influential figures to serve on the high court, his opinions were, according to legal scholars, some of the "greatest defenses" of freedom of speech and the right to privacy ever written by a member of the Supreme Court. He also fought against powerful corporations, monopolies and public corruption. He understood the danger of powerful moneyed forces undermining our democratic ideals, and stated unequivocally, "We must make our choice. We may have democracy, or we may have wealth concentrated in the hands of a few, but we can't have both."
It's time to heal the divide in America. To do so, here's what's required: we have to realize we've all been hoodwinked.
Yes, we have our differences, but our differences aren't wide enough to cause an irreparable chasm in our social contract. We've been driven to hate one another, and that is something that's not sustainable. We've been played the fool thanks to the strategy of divide and conquer – and by being as divided as we presently are, the Kochs and their allies have won.
We need to wake up to this fact. We must stand tall for democratic ideals, for a nation that is of the people, by the people, and for the people. Or, as Lincoln said, we shall perish from the earth.
Our democracy is being threatened internally by forces that care only about the success of their agenda. It's time to come together, regardless of our differences (and our differences are not that great), and create a world we all can thrive in. This a world in which we all succeed, a world that is not subverted by those who, with their billions, push an agenda that steals away the hearts, minds and soul of America and leaves behind a country and people stripped of their vitality, dignity, decency, compassion, and humanity.
We are better than this. Let's rise together and awaken to our collective and individual greatness, as citizens of America and the world.
In my next article I will look at how we can heal the divide in ourselves, as part and parcel of healing the divide in America.
I have a new free six-day email  course that I am offering, entitled  Enlightened Living: 6 Ways to Build an Authentic, Serene and Healthy Life. Read more about it here: The Enlightened Living Course or you can just sign up below to receive the course.
[gravityform id="2″ title="true" description="true"]