Andrew Cohen, the internationally renown teacher of Evolutionary Enlightenment, will be giving a presentation on "Awakening the Evolutionary Impulse," on Saturday, June 17 at 7pm at Yoga Mandali, 454 Broadway, in Saratoga Springs, NY.
The cost is $20 if paid in advance, or $25 at the door. You can register by calling Yoga Mandali, at 518-584-0807, or you can pay right here:
Here is a description regarding Andrew Cohen's June 17 presentation,
"Awakening the Evolutionary Impulse:"
In the midst of the craziness of today's world, many of us ask ourselves the question: how can we contribute to new solutions? How can we take responsibility for where we are going? There are many ways to answer those questions. Some people decide to engage in humanitarian work. Others feel drawn to social activism. Still others feel that they have to do inner work first, that they have to develop their own capacity for being able to hold the complexity of this world from a deeper, spiritually awakened and inspired part of themselves.
Andrew Cohen will guide us through some of the fundamental principles of Evolutionary Enlightenment. He will explain how we can look at the human experience through a very different lens: the lens of a consciousness that has been awakened to the compelling thrill of evolution. Through this lens, we begin to see a much larger process in which we potentially play a very significant role. Through this lens, we discover a much deeper self sense that he calls the evolutionary impulse.
This impulse is not separate from the very energy and intelligence that created the universe.The experience of this impulse is an ecstatic urgency that compels us to want to make this world a better place simply because we are here. Its discovery is both liberating and deeply empowering because once awakened we find ourselves inspired from the deepest part of ourselves miraculously compelled to create a better future for all of life.
About Andrew Cohen:
Andrew Cohen is an internationally respected spiritual teacher, and the founder of Evolutionary Enlightenment. Raised in a secular Jewish family in New York City, he experienced a spontaneous revelation of cosmic consciousness at the age of sixteen, which eventually compelled him to embark on a lifelong spiritual journey.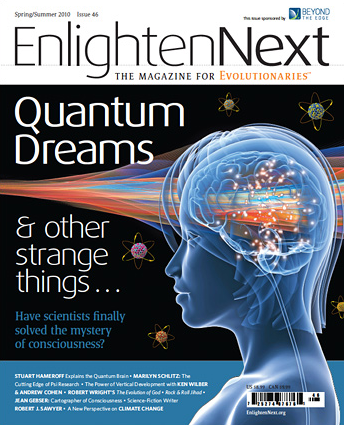 A fateful meeting with the revered master H.W.L Poonja in 1986 sparked a life-changing awakening in him, and he quickly began developing a unique spiritual teaching. Departing radically from a traditional Eastern approach, Evolutionary Enlightenment calls not for transcendence of the world, but for a deep and heroic responsibility for its evolution.
Cohen has become known for his willingness to boldly cast aside the sacred cows of the spiritual world. His teaching work grapples with the challenges of bringing the revelation of enlightenment to a contemporary Western audience, integrating postmodern cultural and scientific understanding with an original and sophisticated non-dual philosophy.
In nearly three decades of teaching work, he has engaged with thousands of seekers worldwide, constantly evolving his teaching in response to direct dialogue with students, teachers and thought leaders. The community that formed around him eventually became known as EnlightenNext, with centers in seven countries.
From 1991 to 2010 he was the editor-in-chief of the award-winning EnlightenNext magazine, a publication that explored the deepest spiritual questions of our time with some of the world's most noted visionaries.
In 2013, he stepped down from the organization he founded. EnlightenNext soon folded, and Cohen went on a three-year sabbatical. What followed was a period of deep introspection, during which he spent time in Australia, India and Brazil. 
His experiences during this time have brought about profound changes in both his teaching style and emphasis. First and foremost, Cohen has recognized that a deep sensitivity and receptivity is required to navigate the unique challenges of a radical spiritual path within a contemporary cultural framework. Drawing on his own recent transformative experiences, he is now discovering new pathways through this most rarefied and delicate of territories.
Again, the cost is $20 if paid in advance, or $25 at the door. You can register by calling Yoga Mandali, at 518-584-0807, or you can pay right here: