Back on June 17, Andrew Cohen, the internationally renown teacher of Evolutionary Enlightenment, gave an evening presentation in Saratoga Springs, NY.
He is following up that evening talk with a full day workshop in Saratoga Springs, NY, Awakening to the Evolutionary Impulse, taking place on Sunday, Oct. 1 from 10am – 6pm at the Spring Street Gallery, 110 Spring St., in Saratoga Springs, NY.
The format for the workshop is lecture, discussion and meditation. There will also be a lunch break.
The cost is $120. You can buy your ticket by calling 518-210-1557, or you can pay right here:
In Andrew Cohen's teachings of Evolutionary Enlightenment, enlightenment does not refer to an unchanging state, as traditional enlightenment teachings attest, but instead it is in accord with an ongoing evolution of humanity, which is the "Authentic Self."
According to Andrew, individuals need to recognize that their own spiritual transformation is essential for cultural evolution. To achieve that, in his view, an individual should strive to realize his or her true self as being "one with the timeless Ground of all Being and with the evolutionary impulse that is driving the entire cosmos."
Here is More About the Workshop:
How do we navigate the complexity and craziness of today's world? How can we take responsibility for where we are going? How can we contribute to new solutions?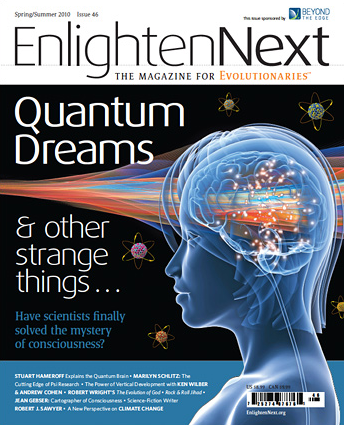 There are many ways we seek to answer these questions. Some feel drawn to humanitarian work or social activism. Others endeavor to bring an ethical dimension to economics and business structures. Many also feel compelled to do interior work first, developing the capacity to hold the complexity of the world from a deeper, spiritually awakened and inspired part of themselves.
Andrew Cohen offers a perspective that inspires us to find and respond to the deepest and best part of ourselves, at every level of the human experience. He calls this perspective and practice Evolutionary Enlightenment.
In this day long retreat, Andrew will guide us through some of the fundamental principles of Evolutionary Enlightenment. He will explain how we can look at the human experience through a very different lens; the lens of a consciousness that has been awakened to the compelling thrill of evolution.
Through this lens, we begin to see a vast cosmic process in which we potentially play a very significant role. Through this lens, we discover and awaken to a much deeper self-sense that Andrew calls the Evolutionary Impulse.
This impulse is not separate from the very energy and intelligence that created the universe. The experience is one of ecstatic urgency; an urgency that compels us to want to make this world a better place simply because we are here.
When we awaken to the Evolutionary Impulse, the discovery is both liberating and deeply empowering. We are in touch with the creative energy and intelligence of the universe itself. Inspired from the deepest part of ourselves, we are miraculously compelled to create a better future for all of life.
About Andrew Cohen:
Andrew Cohen has become known for his willingness to boldly cast aside the sacred cows of the spiritual world. His teaching work grapples with the challenges of bringing the revelation of enlightenment to a contemporary Western audience, integrating postmodern cultural and scientific understanding with an original and sophisticated non-dual philosophy.
In nearly three decades of teaching work, he has engaged with thousands of seekers worldwide, constantly evolving his teaching in response to direct dialogue with students, teachers and thought leaders. The community that formed around him eventually became known as EnlightenNext, with centers in seven countries.